Our largest age group, Explorers is designed to give 10-12 year old campers more independence, but with plenty of guidance.  Through skills clinics, cabin activities like zip lining and tubing , unforgettable evening activities, and cookouts, Explorers learn to LIVE FOR OTHERS as they develop lifelong friendships. (You do not register your camper as an Explorer.  This is simply a programming designation on our part.)
Campers sign up for Skills Clinics that they attend during the morning time every day. They have a chance to change out of one Skills Clinic on Monday evening. Click on the link at the bottom of the page for more information on Skills Clinics. A Specialty Activity takes the place of one Skills Clinic.
Once again this year, all campers will have a chance to purchase a daily snack  during swim time.  Both snack and store purchases will be made through the Funfangle App.
Explorers stay on Main Camp.  Female Campers stay in Hilltop Cabins (bathrooms are not attached.)  Male Campers stay in Woodland Village (Bathrooms attached) and Lakeside Cabins (Bathrooms not attached.)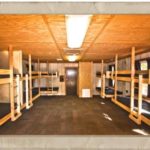 Explorers stay in a cabin with 10-12 other campers and at least two cabin counselors who have undergone back ground checks, are trained in CPR and first aid and have completed at least 100 hours of staff training. Campers and staff all follow the Rule of 3.  Campers are not left alone either with each other or staff.
ACTIVITIES
Explorers  can pre-register for one our SPECIALTY ACTIVITIES, such as Water-skiing/Wakeboarding, Horseback Riding, Mini-bikes, or Sailing. All campers have the opportunity to select options from our long list of exciting skill-building activities.