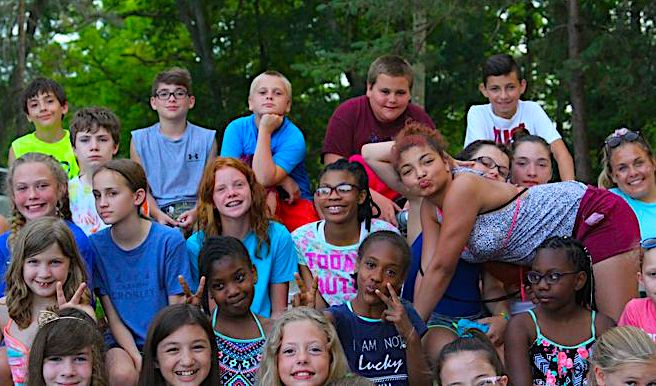 This morning as I started my routine of quiet coffee alone before my daughters awoke, and the family pets made their needs known – before the world came knocking at my front door making its daily demands, I sat alone in quiet reflection, pen in hand, and the Still Small Voice led me to pen this prayer for our summer campers and for our summer staff, many of whom have just headed back or are soon heading back to school. Wishing all of our camp families a blessed school year. ~ Priscilla Brown, Associate Executive Director, Camp Crosley, and Fellow Parent
A Prayer for Campers Heading Back to School
God, it's that time of year -the time that brings, for some children and young adults fresh new possibilities, new schools, new teachers, new teams and directors drama and music groups. New.New.New. And in this new they see the sky as the limit. They see nothing but open doors and open minds. Oh, God, thank you for these kids and their eternal optimism. May we adults continue to fan its flame and not throw cold water on their hopes and dreams. May we come alongside them in their joy and eagerness to learn. May we see your world through their lens of sunniness. Thank you for these children. Bless them and keep them safe this year, and may their joy be contagious and spread. God, the world needs their joy. Use them. 
And, God, there are many children for whom this time of year is terrifying. All the new that one child sees as fresh and exciting, another may experience with dread and anxiety. Their souls are unsettled. Their minds are anxious. Their hearts are trembling.
Oh, Father, draw near to these children. Speak to them in your Still Small Voice. May their bodies feel your presence and know they are not alone. May their uneasy thoughts be filled with your peace and loving care and may their spirit be filled with your power. God, these children, some of them, have no idea how beautiful, warm, smart, funny and good they are. They feel small and scared. Please, God, this year bring angels into their lives in the form of bus drivers, friends on the playground, teachers, coaches, counselors and janitors. People who really SEE them, CONNECT with them, LOVE them, VALUE them and GROW them. God, thank you for these precious children and for what they are teaching us adults and how they are changing us into the people you desire us to be.
God, thank you for all the adults who have taken on the mantle of educator in our children's lives. Grant all of us respectful communication with one another. Give us wise understanding of various situation that arise. Keep us from the divisive "us" versus "them" mentality that at times creeps into our lives when it comes to our children and their best interests. Open our eyes to the "we" in these circumstances so we may come together in solving problems and creating solutions for the life changing gifts you have given all of us – our children.
We don't know what these next 10 months will bring for our kids and our families, but based on past experience we know there will be Good and Bad. Joy and Grief. Exuberance and Pain. Thank you for all of it, God. Help us help our children through it so in they end they are more confident, more empathetic, more hopeful, more resilient and more their TRUE SELVES – the persons you've created them to be. And most of all, God, in all of this, may our children come to see themselves as you see them. Precious. Valued. Cherished. Powerful.
For these lessons and all the others you've allowed us to learn in our lives thus far, we thank you. Amen.