It's a wrap on another annual Mother/Daughter weekend here at Beautiful Camp Crosley! Every year brings new moms and daughters as well as long time returners.  This year was bittersweet watching one grandma get a little weepy knowing her oldest granddaughter is heading off to college next year and may not be a part of her family's tradition of coming together to this event.  That's what makes this time so special – the bonds that we create and grow together.
The CAUSE of the Y is to strengthen communities, and every year we look for new and creative ways to give our moms and daughters the gift of time and conversation together.
This year instead of the Giant Swing, we opted to open our Pamper Pole to willing participants, and my favorite thing was to hear mothers like me say, "Wow!  That was empowering!"  Yes, it is!  I know because I did it for the first time last summer, and that was my same reaction, and I wanted other moms to feel the same way.
I also wanted to share my love of good books which is why we created this weekend around the Daring Book for Girls, a new classic with so many lessons, encouragements, inspirations and activities for girls of all ages.
It was a weekend to make cider together in our cider press.  It's funny how different conversations just happen when working together. I heard stories about starting businesses, challenging high school courses, family traditions and upcoming surgeries. Women connect and learn by talking about shared experiences.  It's how we realize we aren't alone in our lives and communities, and we are usually pretty good about being honest with our feelings and opinions when stripped of the stresses of life roles, jobs and expectations.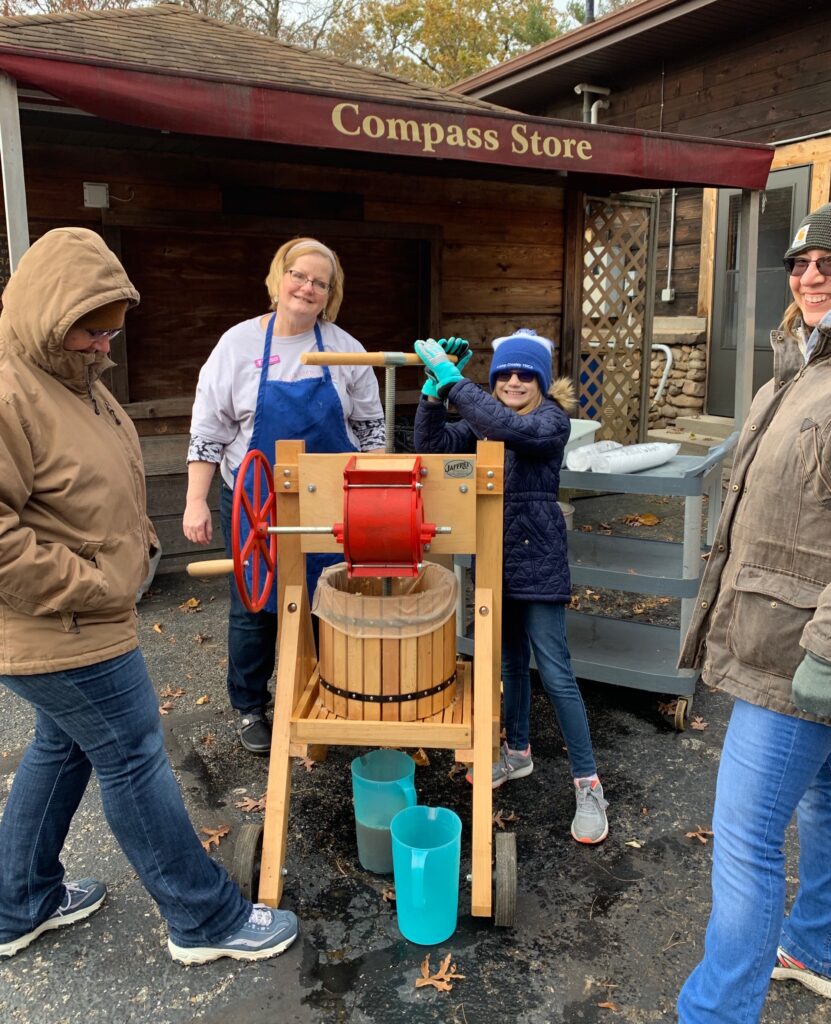 Standing back and watching, I definitely had two favorite activities: 1.)  The ghost story telling contest on Saturday night. I loved seeing our daughters come together and create a story, act it out or tell it, and then laugh and laugh. Like summer camp, I believe the time mothers and daughters spend together in a cabin focusing on an activity or purpose is invaluable – the conversations, the ideas shared, the problem solving – all of it creates a sense of community, a sense of belonging. 2.)  My second favorite activity to watch unfold was our time of mothers and daughters sharing their fears with one another and making targets.  Walking around and listening in and watching the targets being made, I saw first hand what I suspected I might learn – fears are universals.  They don't go away with age.  They pop up wearing a different costume, but they are still the same fear.  What we do with those fears is what matters, and seeing mothers encouraging their daughters to name their fears, face their fears and then shoot arrows through those fears brought me joy.  I have to be honest, I wasn't expecting to see the intensity of some of the conversations, and it reminded me of the importance and the responsibility we adults have in raising up the next generation to be better and do better than we are.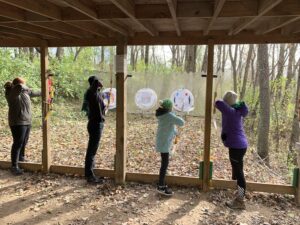 A special thank-you to our wonderful staff who braved the cold to serve.  You truly "Live for Others," and strengthen communities by giving so selflessly.  Thank you to the daughters who entertained us with your wit, BIG personalities and boundless energy, and thank you mothers for showing up, being honest and willing to play like a child again here with us.  We can't wait to do it all over again November 6-8, 2020 so mark your calendars, and start calling your friends to join you.  We're #BetterTogether.