It was a beautiful December day, and I was outside on our high ropes course with a few other staff members.  Sunny, 40 degrees, little wind – the perfect day to make a video of my climbing an element we call "The Vertical Playground."
It was all my brilliant idea… or so I thought at the time.  I wanted to add some video pieces to our Facebook Events page about an upcoming Women's Weekend, and I thought that showing a few activities we'd be offering might entice more registrations.  So, I harnessed up, the team clipped me in, and we started shooting the video.  I greeted the women out in cyberspace and Joe, our Groups and Retreats Director, explained the hows and whys of the vertical playground, and then I started my ascent.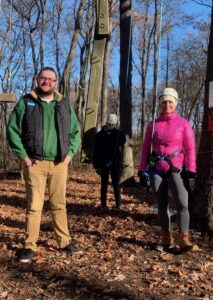 My slow.Painful. Ascent.
I'd chosen the first element on the Vertical playground, which looked fairly simple except for the fact (that I didn't think about until halfway up) that it wasn't connected to an immovable object so I  swinging around the entire time.  With the help of Sam, my belayer, I started to climb.  A belayer, for those not familiar with ropes-speak, is the person on the ground, holding onto the rope, that the person who is climbing, harness's is clamped onto.  The belayer is the safety person, and usually the person sharing information, giving advice and shouting encouragement.
I climbed the first portion fairly easily despite the feeling of swinging around uncontrollably, and, I'm not going to lie, I got a big head.  I tend to react that way when I try something for the first time, and it goes smoother than I imagine.  I think, "Huh, this isn't so hard after all.  You really are something, Priscilla Brown,"  and then reality hits. In my case the reality was the second part of the climbing element which was a rope ladder that, from the ground, just looked like a ladder, but 20 feet up in the air with each sway from every step up,   I was acutely aware of my own mortality, and then it happened.
I froze.
"Umm, do you have any advice?"  I yelled to Joe.
Belayers, and ropes course facilitators are kind of like therapists in a way. They are guides – never telling us what to do, but leading us to find our own answers in our own situations. Joe, our Groups and Retreats Director is skilled in this area, and shares tips and encouragement, but never offers, "Do you want to come down?"  or  "If I were you, I'd…"  Because that isn't the point.  The point was for me to figure out what would work for me in that moment.  I was the master of my own fate.  Not Joe.  Not Sam.  Me.
By this time both arms were wrapped around the rung of the ladder and both feet were on the same small piece of rope, and I wasn't moving.  My brain knew what I needed to do, but my body was having none of it.
"Well," Joe said calmly, "At any given time, you need to be touching the element at three points"
Being the math whiz and over achiever that  I am, I yelled down, "I'm touching it at four,"  stating the obvious.
"I know,"  Joe replied, not saying anything else.
Then the simple lesson Joe was trying to convey shot into my brain, "Oh, he's telling me I have to let go of something in order to move on up."
I don't know about you, but I'm not a fan of getting aha moments 20 feet up in the air on a swinging rope attached to a young man half my body weight.  But, what I like to call the Still Small Voice, shows up and speaks Truth in unexpected times, in unexpected ways, in unexpected places.  In fact, if you think about it, that seems to be It's modus operandi.  Burning Bush. Talking Donkey. Blinding Light. Big Ol'Angel.  Okay, so my experience was hardly one of biblical proportions, but it was an experience nevertheless.
"I can't move up, unless I let go of something."  I repeated to myself.  Several minutes later, the message from my brain finally made it to one of my arms or legs, and and I slowly began shoving my body up towards my goal which was to simply touch the horizontal log at the top.  During the summer, some of our campers' goal is to get to the log, climb on top of the log, and sit on the log.  In, that moment, I was just fine with a simple tap.  After all, it was just a Facebook video – no need to show off…or spend 20 more minutes of my staff's time trying to encourage me further.
Sam belayed me down, and while I was getting unclipped and out of the harness I said to Joe, "Wow, there is a lot to learn out here"  "Yep," said Joe.  "The ropes course can translate into so many life lessons."
I keep thinking of the one I learned that day, the one The Still Small Voice keeps whispering still, "You can't move on unless you let go of something."
What about you?  Is there something you need to let go of as this year comes to a close to move into upcoming year on the right foot?  Is it a feeling like anger or resentment?  Maybe it's a harmful relationship or bad habit or negative way of looking at things.  Whatever it is, the Still Small Voice might be using this story of my choking 20 feet up in the air to whisper the truth you need to hear today, "You can't move forward unless you let go of something."   I let go, reached up and got to the top. You can too.
Priscilla Brown is the Associate Executive Director at Camp Crosley YMCA and the mother of two girls, a dog and two cats. Her favorite thing about camp is working with a patient staff that keeps her young…or youngish.  If you'd like to see the video the staff shot of her experience, you can can view it here.  If you'd like to join Priscilla at the 2020 Camp Crosley Women's Well Being Weekend, you can register online here.  More information can be found on our Groups and Retreats page as well as on our Event tab of our Facebook page.