This past weekend, Camp Crosley hosted its annual Mother/Daughter retreat. We had over 60 ladies and girls – mothers, daughters, aunts, nieces and even grandmas attend during one of the most gorgeous weekends of this fall season.
Our Hospitality Director, Renee, cooked up some great treats to include Harry Potter Pumpkin Juice slushies, pumpkin crepes, and an endless salad bar just to name a few of her wonderful offerings.
Our staff put together a fun-packed weekend to include our first ever Crosley Go! geo cashing contest where mothers and daughters traveled camp grounds searching for Crosley Capsules and answering questions at each station that helped participants connect in the great outdoors at a fun and sometimes even deep level. Our crafts included a Christmas ornament, a clay leaf bowl and snowman painting. Great fun was had at the Giant Slide, Giant Swing, Jumping Pillow and Zipline as well as a campfire, but one of the biggest hits of our time together was the Saturday night Glo Ball where we turned out the lights and turned up the tunes. Mothers and Daughters danced together decked from head to toe with glo-sticks! Pretty Groovy.
Chapel Sunday consisted of mothers and daughters choosing the quotes that best represented one another or their relationships, and there wasn't a dry eye in the house when young daughters started to stand and read their quotes, explaining why their mothers were so special to them.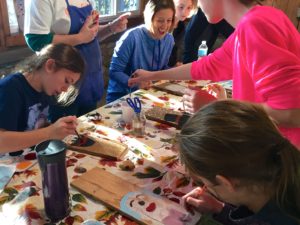 A big Thank You! to everyone who attended. These weekends are so special because the mothers and daughters coming to camp together are so special. We hope to see you all again next year, November 3-5, and don't forget to bring your friends with you!