Ladies, it's not too late to sign up for our annual Mother/Daughter Weekend coming up this November 4-6.
Besides normal camp activities like the Giant Swing and Giant Slide,  this year we have a couple of crafts we'll work on together – a snowman painting and a Christmas ornament.
We've come up with our own take on Pokeman Go! called Crosley Go! which will pair up mothers and daughters on a race to the finish that is also designed to help us learn more about each other in a fun, relaxed way.
Finally, we'll have our traditional Saturday Night Dance.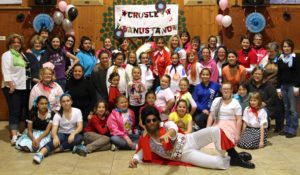 In the past we've had a 50's theme as well as a barn hoe down. This year we are going to turn out the lights and turn up the fun with our first ever Glo Stick Dance – a camper favorite during the summer, and we think it will be even MORE fun with Moms!
So Moms, come with your daughters, friends, moms, grandmas, aunts and cousins for a weekend to laugh, learn and bond. It's one of our favorite weekends that we host here at Crosley.  You can register online (at the Register for Camp icon) or over the phone  at 574.834.2331