What should my camper pack for a week at camp? An overview and a packing list is part of our Family Information Guide. 
What is Camp Crosley's cancellation/refund policy? Registrations and Specialty Activities are non-refundable. All cancellation requests must be sent to the camp office at info@campcrosley.org.  You may also call 574-834-2331 and speak to our office manager or office personnel. Refunds: If a camper is unable to complete a session due to a medical reason, a refund will be made available on a pro-rated basis.  Homesickness or being sent home due to disciplinary reasons are not conditions for credits or refunds.
What if my camper has food allergies or needs to follow a special diet? Please share this information on the medical form portion of your online registration, and our Hospitality Director will make the necessary adjustments. You can also talk to her when you drop off your camper during Sunday Check In.  If you'd like to connect with her personally, she can be reached at renee@campcrosley.org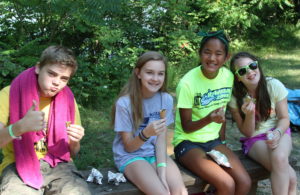 What are the rules about electronics? We ask that all electronics be left at home, including cell phones. If we discover a camper with a cell phone, we will take the cell phone. The camper can pick it up at the end of the week at the camp office when checking out.
How can I contact my child? In your parent packet is information about Bunk 1. You can send emails through this service, and they will be printed and delivered once a day at lunch time.  Campers cannot reply via this service.  It is critically important for the development of your child to use this time to grow independently and to learn to make decisions on his or her own. If there is a family emergency, please call the Camp office, and we will be happy to work with you to make the necessary arrangements.
What about care packages? You are welcome to send or drop off care packages for your camper.  Please no more than one package per week per camper.  (We do not have the staff to sort and deliver more than that, and lots of cardboard boxes means lots of recycling trips for our maintenance staff.) Due to a growing number of food allergies as well as preventing ants and other pests attracted to food waste from coming into the cabins, we cannot permit snacks in the cabins.  Please do not send food to your camper. Some non-food items campers love getting are Madlibs, glow sticks, tattoo stickers, crossword puzzle and coloring books, kush balls, travel size card games etc. 
What if I need to pick up my child early from camp? We understand that conflicting schedules arise. If your camper needs to be picked up early, please fill out an Early Pick up card at Check In on Sunday.  Because we don't want to interfere with our very special closing campfires and closing ceremonies and graduations, we cannot facilitate early pick up between 6:30-9:30 pm on Friday night. Please make arrangements accordingly.
How do kids sign up for Skills Clinics? On Sunday afternoon, cabin counselors review and explain all the Skills Clinics choices to their  campers. Campers sign up for them at this time. (It's a good idea to go over these choices with your camper before he or she comes to camp.) Our program staff works hard to make sure each camper gets his/her first choice of activities. By Sunday night/Monday morning, each camper will be given a list of his/her activities for the week. We give campers the chance to move out of ONE activity on Monday evening.  A specialty activity will take the place of one Skills Clinic. All specialty activity fees are non refundable.

What about the camp store? The camp store is during Check-In and Check-Out. During swim time we sell snacks at the camp store.  Campers are limited to two candies and one drink per day.  One day a week, with their cabin, campers will visit the camp store where we have t-shirts/sweatshirts, water bottles, hats, sunglasses, patches, etc.  These cost between $5-$45.
What about snacks?  Snacks are covered in the cost of camp.  We serve snacks with a bottle of water in the evening after programming is over and before the campers head to the showers and bedtime. They can also purchase snacks at the store during swim time. Please do not send snacks to camp with your camper.  We serve many children with severe food allergies and for safety reasons cannot have snacks in the cabin.
How do I request a cabin mate for my camper? On your camp registration there is an option to choose 1-2 cabin mates. We can only honor mutual requests. If you are having personal issues with another family about your children being together – please work those out with that other family before coming.   Please do not call or email to request 5-6 campers being together – even if it's their last year, even if they've always been together. If they are the same age, they will see each other a lot every day of camp. Every summer we have parents attempt to do this. This is not in keeping with our policy as one of our chief goals for camp is for our campers to meet and experience and make new friends – kids from other backgrounds and with other interests. We also want to make sure those kids coming by themselves, maybe for the first time, do not feel overwhelmed and/or excluded. Even campers with the best of intentions get caught up with their group of friends and don't always include everyone. We see this every summer, and receive feedback about it. Please abide by this policy.