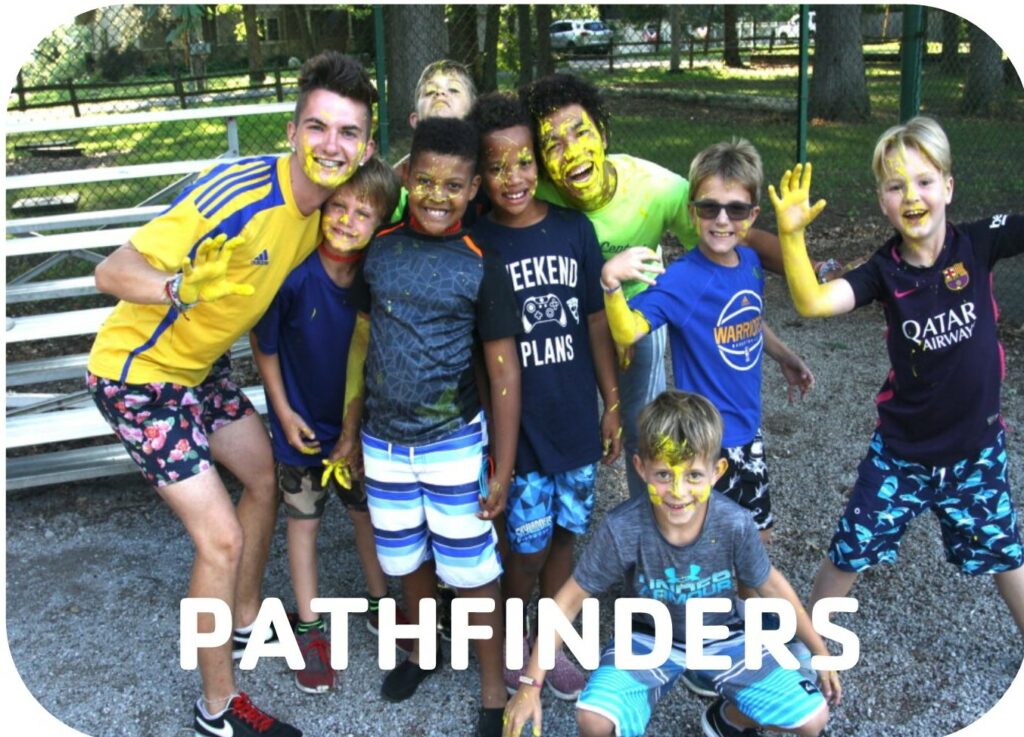 With a balance of feeling secure and trying new things, our nurturing environment creates an unforgettable first overnight experience.  Realizing the importance of playing hard and getting enough sleep, we have an easier schedule and an earlier bedtime.  Pathfinders is our youngest group of campers in going into grades 2nd and 3rd.  The campers are here for the full week and are in activities that are designed just for their age group. They stay in villages with other campers their age.  All cabins have at least two (2) trained counselors and up to 10-12 campers.
In the Pathfinders program, we encourage your child to:
Grow in independence
Explore new interests
Make camp friends
      
WE CARE!
Safety is the cornerstone of what we do at Camp Crosley.  Our safety standards are designed to meet or exceed the requirements of the American Camp Association.  We continue to be accredited through ACA.
SAFETY
Your child's safety is our number one priority while he or she attends Camp Crosley. While Camp Crosley cannot completely eliminate the possibility of a child becoming ill or being injured while at camp, we do recognize that before the "camp experience" can be anything else to the child, it must be a secure environment for the child to learn and grow.
Every session is staffed by a licensed, on-site nurse who stay at our health center during that time. In addition, Camp Crosley has access to ambulance service in a matter of minutes in nearby North Webster, IN.
HEALTH & WELLNESS APPROACH
At Camp Crosley, our goal is to treat your child "like one of our own." One of the ways we strive to do this is by taking a comprehensive approach to your child's health and wellness. Ways we do this include, but are not limited to, hygiene checks, medication dispensation, allergy management plans and a proactive and preventative approach to sanitizing and disease control. In addition, we place a strong emphasis on the "Big Five."
Hand Washing
Hydration
Nutrition
Rest
Sun Protection
STAFF RECRUITING & TRAINING
At Camp Crosley, it is our goal to create a secure environment for your child. Camp Crosley goes to great lengths to ensure that our staff is properly screened during the application and interview process and then thoroughly trained so that your child will be surrounded by the finest young role models that the country have to offer.
Camp Crosley is highly selective during the interview process and only selects about 100 staff for the summer. Each staff member goes through extensive amount of training and development.
All staff are CPR and First-Aid certified
Wrangler certified through American Horsemanship Association
Lifeguards are trained and certified through the Y Lifeguarding program
Boat Drivers/Waterski instructors are certified by Waterski Works
Ropes Course staff are certified through an ACCT vendor
Target Sports instructors attend the Civilian Marksmanship program